The one qualification to guarantee you receive all commissions and bonuses from Young Living and all of the benefits from our team marketing efforts is that you continue to purchase $100 PV in product each month from Young Living.
Setting up the Essential Rewards program is how you can be sure that you won't 'forget' about placing your monthly order, so you reach that commitment every month and stay qualified for all bonuses, commissions and team benefits. You also receive credits back towards future purchases and other discounts and benefits with Essential Rewards orders which you will learn about here.
Essential Rewards is a monthly auto-order system that will place an order for you for a specific group of products based on any of the pre-made 'Essential Rewards Kits' Young Living offers, but you can also create your own unique order with whatever products you like through Essential Rewards each month. .
Why Order Through Essential Rewards?
In addition to not missing your qualifying order, you get additional discounts for purchasing these kits or products through the Essential Rewards program compared to simply purchasing the products at wholesale, and you also receive a discounted rate on shipping.
Additionally, you receive 10% – 20% PV back in 'Essential Rewards Points' that can be used like cash towards any full PV products.
The best part is that what you choose is up to you, so you can rotate between the Essential Rewards Kits, essential oils, Thieves cleaning products and care products, skincare products, Ningxia Red, health supplements, etc.  You can choose their pre-made kits, or you can log in and choose specific oils or products that you want, each month.
You can view the different pre-packaged Essential Rewards kits by clicking here.
To set up and manage your essential rewards orders, follow the steps listed below.
First, log into your Young Living account here: https://www.youngliving.org/ with your username and password.
Below is a screenshot that has two blue arrows pointing to where you click to manage your essential rewards orders.  The blue circle shows you where to find the Essential Rewards Points that you have accrued from your Essential Rewards orders that you can spend like cash on 100% PV products (meaning the PV volume is the same as the price of the product).
If you receive a message that says : "Our records show that you have elected to migrate to using our New Virtual Office. Please log into New Virtual Office to edit your Essential Rewards Order." you will need to log in at http://beta.youngliving.com, choose your country and then click on the 'Member Login' link.
Once you log in here, look for the 'Essential Rewards' link on the left navigation bar, which you will see in the below screen shot indicated with a blue arrow.  After you click there, you will see the number of points you have accrued and you will be able to manage the monthly order by clicking on the blue button at the bottom, also indicated by a blue arrow in the below screenshot.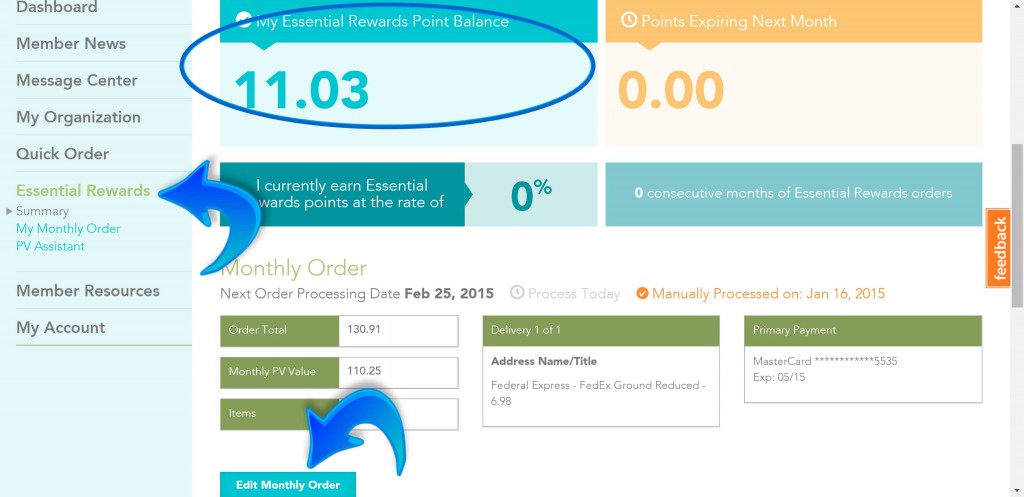 It doesn't matter which site you are using to access and manage your monthly Essential Rewards order, they both work fine and accomplish the same goal.
The key is to be sure you have a monthly Essential Rewards order setup so you will never miss out on bonuses, commissions or team marketing benefits… And, so you can get additional discounts and points back that work like cash towards future products.
If you need help setting up your essential rewards order, you can always call Young Living customer support at 1-800-377-3515 if you are in the US, or if you are international, simply go to the Young Living site, choose your country and then choose the 'Contact Us' link to get your local support phone number.